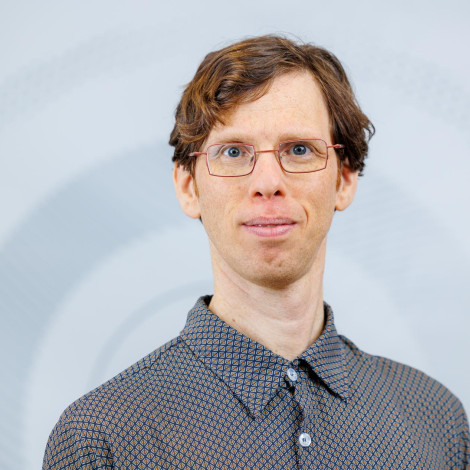 Director, Graduate Program in Digital Culture; Chair, Departmental Ph.D.Committee
Prof. Ori Schwarz
דוא"ל
ori.schwarz@biu.ac.il
שעות קבלה
by appointment (via email)
Biography

ביוגרפיה

Ori Schwarz joined the department in 2013, after receiving his PhD in Sociology from the Hebrew University of Jerusalem and spending a year as a Fulbright post-doctoral fellow at Harvard University. His main research foci are sociological theory, digital sociology, and cultural sociology (in particular, the cultural sociology of value and evaluation, authenticity, politics, and social identities). Since 2019 he is a co-director of the Center for Cultural Sociology, Bar-Ilan University and chair of the departmental PhD committee; and since 2022 he is the director of the Graduate Program in Digital Culture.

His book "Sociological Theory for Digital Society: The Codes that Bind Us Together" (Polity, 2021) explores the challenges digitalization poses to existing sociological theory and its conceptualizations, and offers new ways to adapt different schools of sociological theory to digital society while rethinking core concepts such as interactions, social networks, social capital, power, and labor. His empirical studies in digital sociology explored social network sites (addressing question of governance, power, political defriending and homophily, and identity and boundary work); digital data-objects and their influence on memory, intimacy, value production and subjectivity; and digital photography and its new roles in sundry social scripts and practices including religious rituals, romance, sexuality, and crime.

His studies on the sociology of authenticity explored how the authenticity ideal reorganizes struggles over social value and recognition; inequalities in the ascription of (in)authenticity; and the discursive construction of affinities between ethnicity, class, politics and culture )as well as attempts of social actors to transform these affinities, e.g. in social movements). In other studies in the cultural sociology of value and evaluation, Prof. Schwarz explored transformations in repertoires of cultural evaluation (and their influence on classification struggles); the relationship between ethics and aesthetic judgment; and the role of cultural techniques of tasting, choice and evaluation in cultural consumption and decision making. His studies on identities explore boundary work and doing identity in everyday life, and particularly the role of 'loudness' and of (real or imagined) sonic differences in the construction of social identities and hierarchies in Israel.
Research

תחומי מחקר

Digital Sociology
Cultural Sociology
Sociological Theory
Sociology of Taste, Value and Evaluation
Social Identities
The Sociology of Authenticity
CV
Courses

קורסים

Digital Sociology
Issues in Advanced Sociological Theories for Graduate Students
Rethinking Society in the Digital Era
Digital Culture Lab
Sociology of Value and Evaluation
Sociology of Morality
Sociological Theories II
Pride and Prejudice: Stereotypes, Stigmatization and Social Identity
The Camera in my Pocket: on Technology, Relationships, Power, and the Self
Classical Sociological Theories
Supplementary Course in Sociological Theory
Publications

פרסומים

Books:

Schwarz, Ori (2021) Sociological Theory for Digital Society: The Codes that Bind Us Together. Cambridge: Polity.

                  Reviewed in: European Journal of Sociology; Israeli Sociology

                  Translations:

                  Turkish Translation (forthcoming, 2024), Ayrinti Yayinlari.

Refereed Journal Articles:

Schwarz, Ori (forthcoming) 'Why did Trump call prayers politically correct? The coevolution of the PC notion, the authenticity ethic, and the role of the sacred in public life', Theory & Society, https://doi.org/10.1007/s11186-023-09518-3.

Schwarz, Ori (forthcoming) 'Democracy or rebellion: On meaning work and the construction of a crisis, Israeli Sociology [in Hebrew]

Schwarz, Ori (2021) 'Identity as a barrier: claiming universality as a strategy in the Israeli vegan movement', Social Movement Studies 20(5): 600–618.

Schwarz, Ori (2019) 'Facebook Rules: Structures of governance in digital capitalism and the control of generalized social capital', Theory, Culture & Society 36(4):117–141.

Schwarz, Ori (2019) '"Everything is Designed to Make an Impression": the moralization of aesthetic judgment and the hedonistic ethic of authenticity', European Journal of Cultural Studies 22(4): 399–415.

Schwarz, Ori (2ׁ018) 'Cultures of Choice: Towards a sociology of choice as a cultural phenomenon', British Journal of Sociology 69(3): 845-864.

Schwarz, Ori and Guy Shani (forthcoming, 2016) 'Culture in mediated interaction: Political defriending on Facebook and the limits of networked individualism', American Journal of Cultural Sociology 4(3): 385–421

Schwarz, Ori (2016) 'The Sociology of Fancy-Schmancy: The notion of "farterism" and cultural evaluation under the regime of radical suspicion', Cultural Sociology 10 (2): 141-159.*

* 2017 winner of the SAGE Prize for Innovation and/or Excellence, awarded by the British Sociological Association and Sage Publications.

Schwarz, Ori (2016) 'The Symbolic Economy of Authenticity as a Form of Symbolic Violence: The Case of Middle-class Ethnic Minorities', Distinktion: Journal of Social Theory 17(1): 2-19.

Schwarz, Ori (2015) 'The Sound of Stigmatization: Sonic habitus, sonic styles, and boundary work in an urban slum', American Journal of Sociology 121(1):205-242.*

* 2016 winner of the Louis Guttman Best Article Prize, awarded by the Israeli Sociological Society.

Schwarz, Ori (2014) '"Very Ashkenzai Iraqis": On authenticity, class boundaries, and the metaphoricity of ethnic language in Israel', Theory & Criticism 43:103-130 (in Hebrew).

Schwarz, Ori (2014) 'Arab Sounds in a Contested Space: Life Quality, Cultural Hierarchies and National Silencing, Ethnic & Racial Studies 37(11):2034-2054.

Schwarz, Ori (2014) 'The Past Next Door: Neighborly Relations with Digital Memory-Artifacts', Memory Studies 7(1):7-21.

Schwarz, Ori (2013) 'Bending Forward, one Step Backward: On the Sociology of Tasting Techniques', Cultural Sociology 7(4):415-430.

Schwarz, Ori (2013) 'Dead Honest Judgments: emotional expression, sonic styles and evaluating sounds of mourning in late modernity',  American Journal of Cultural Sociology 2(1):153-185.

Schwarz, Ori (2013) 'What Should Nature Sound Like? Techniques of engagement with nature sites and sonic preferences of Israeli visitors',  Annals of Tourism Research 42: 382-401.

Schwarz, Ori (2012) 'The New Hunter Gatherers: Making Human Interaction Productive in the Network Society', Theory, Culture & Society 29(6): 78-98.

Schwarz, Ori (2011) 'Who Moved my Conversation? Instant Messaging, Intertextuality, and New Regimes of Intimacy and Truth', Media, Culture & Society 33(1): 71-87.

Schwarz, Ori (2010) 'Going to Bed with a Camera: On the Visualisation of Sexuality and the Production of Knowledge', International Journal of Cultural Studies 13(6): 637-656.

Schwarz, Ori (2010) 'Praying with a Camera-phone: Mediation and Transformation in Jewish Rituals', Culture & Religion 11(3): 177-194.

Schwarz, Ori (2010) 'Negotiating Romance in Front of the Lens',  Visual Communication 9(2): 151-169.

Schwarz, Ori (2010) 'On Friendship, Boobs and the Logic of the Catalogue: Online Self-Portraits as a Means for the Exchange of Capital', Convergence 16(2):163-183.

Schwarz, Ori (2009) 'Good Young Nostalgia: Camera Phones and Technologies of Self among Israeli Youths', Journal of Consumer Culture 9(3): 348–376, reprinted in: 12a. Hughes, Jason  and John Goodwin (in press) Documentary & Archival Research, London: Sage.

Books Chapters:

Schwarz, Ori (Forthcoming 2017) 'Emotional Ear Drops: the Music Industry and Technologies of Emotional Management', in Eva Illouz (ed.) Emotions as Commodities: Capitalism, Consumption and Authenticity, London: Routledge

 Translations:
Schwarz, Ori (2018), 'Emotionale Ohrentropfen: Die Musikindustrie und die Technologien der Gefühlssteuerung', in Eva Illouz (ed.) Wa(h)re Gefühle: Authentizität im Konsumkapitalismus, Frankfurt: Suhrkamp.

Schwarz, Ori (2019) 'Gotas emocionales para el oído: la industria de la música y las tecnologías de gestión emocional', in Eva Illouz (ed.) Capitalismo, consumo y autenticidad: Las emociones como mercancía, Buenos Aires: Katz Editores.

Schwarz, Ori (2019) 'Des gouttes émotionnelles dans les oreilles: l'industrie de la musique et la gestion des émotions', in Eva Illouz (ed.) Les Marchandises émotionnelles: L'authenticité au temps du capitalisme. Paris: Premier Parallèle.

Schwarz, Ori (2011) 'Place Beyond Place: on Artifacts, Religious Technologies, and the Mediation of the Sacred Place', In Daniel R. Schwartz & Zeev Weiss (eds.), Was 70 C.E. Really a Watershed in Jewish History?, Leiden: Brill.

Book Reviews:

Schwarz, Ori (2015) Points of Reference: Changing Identities and Social Positioning in Israeli Society, Shavit, Ze'ev, Orna Sasson-Levy, and Guy Ben-Porat (eds), 2014, reviewed in Israeli Sociology 16(2):199-201 [in Hebrew].

Schwarz, Ori (2010) The Inner History of Devices, S. Turkle (ed.), 2008, reviewed in Cultural Sociology 4(2):312-315.
Media
Last Updated Date : 04/06/2023